La evolución del producto hacia la excelencia se extiende a todo nuestro productos.
Rebound Products es acerca de la evolución del trampolín.
Siempre nos hemos centrado en producir equipos con una vida útil superior para ahorrar el dinero de un Club. Tu futuro sostenible está aquí y ahora, con Rebound Products. Nuestro objetivo ha sido ayudar al desarrollo de este gran deporte al establecer continuamente nuevos estándares tanto para la seguridad como para el rendimiento del equipo.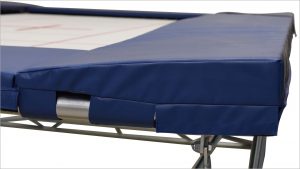 Thin near the bed, and thick near the frame. Held firmly in place.
Read More